Investment Facilitation: Policies and Practices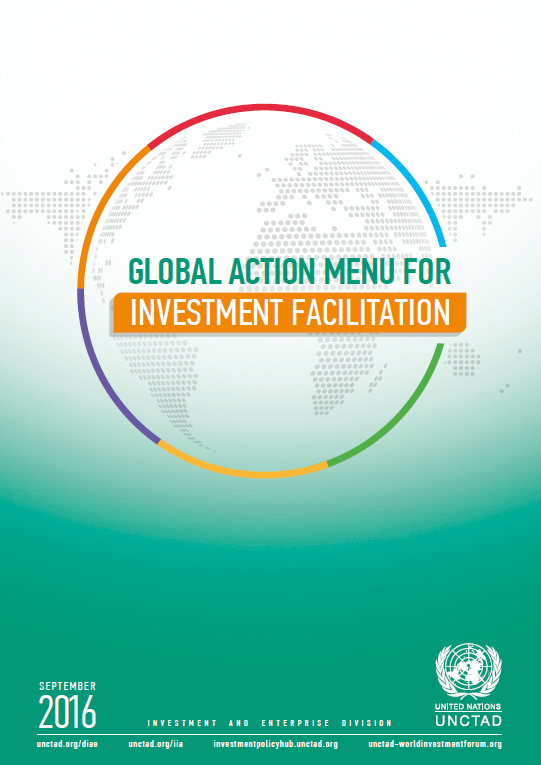 Improved investment facilitation will be vital to economic growth and achieving the Sustainable Development Goals by 2030. However, to date, national and investment policies have paid relatively little attention to investment facilitation. UNCTAD's Global Action Menu for Investment Facilitation aims to complement existing investment policies and proposes 10 action lines with a series of options for investment policymakers and government agencies for national and international policy measures.
The upgraded Global Action Menu reflects expertise acquired from decades of UNCTAD support of investment promotion and facilitation efforts worldwide. It also draws on UNCTAD's Investment Policy Framework for Sustainable Development , UNCTAD's Sustainable Development Goal Investment Action Plan , and multi-stakeholder consultations at the 2016 World Investment Forum and other fora.
At the 2016 World Investment Forum, investment stakeholders from developing, developed, and transition economies supported UNCTAD's work in investment facilitation, emphasized its importance, and described how they were mainstreaming investment facilitation by taking concrete actions as outlined in UNCTAD's Global Action Menu. These include ensuring transparency and predictability in the formulation and implementation of investment policies, improving the efficiency and effectiveness of investment administrative procedures, establishing accountability in lead agencies and building constructive stakeholder relationships, including at the sub-national level.
World Investment Forum participants also identified areas where there is scope for future action, such as strengthening local capacities at the city level to facilitate investment, incorporating facilitation aspects into investment treaties, and strengthening the "responsibility" dimension of investment facilitation. A key challenge highlighted by investment stakeholders was how to translate actions of the Global Action Menu into effective administrative practices at the national and sub-national levels.
On this page you can find a range of relevant resources to assist country's investment facilitation efforts:
Update:
Concrete action on investment facilitation is becoming more and more urgent. In that light, UNCTAD has presented a brief review of existing policy practices in the area of investment facilitation. The review captures the extent to which investment facilitation practices, as set out in UNCTAD's Global Action Menu for Investment Facilitation, can be found in national and international investment policies.
Please download the Review here: