Latest Reports
Explore
Nigeria
Report on the Implementation of the Investment Policy Review of Nigeria
The report on the Implementation of the IPR of Nigeria reviews the progress made in implementing the recommendations set out in the IPR.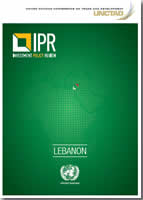 Explore
Lebanon
Investment Policy Review of Lebanon
Lebanon benefits from a strategic location and is known for its cosmopolitan society, openness to trade and commerce, vibrant private sector and qualified labour force. However, numerous hindrances affecting the legal and institutional framework for investment prevent the country from fully realizing its FDI potential. The IPR provides concrete recommendations aimed at overcoming these constraints and outlines a strategy to attract more FDI in the knowledge economy.