UNCTAD presents a new reform toolbox for the energy transition
21 Aug 2023
UNCTAD presents a reform toolbox for the energy transition in its latest report on global trends in the investment treaty regime.
Climate imperatives and other emerging global challenges highlight the urgency of accelerating the reform of the investment treaty regime. UNCTAD developed a toolbox for international investment agreements (IIAs) on the promotion of sustainable energy investment. The objective is to transform IIAs into instruments that actively support the energy transition.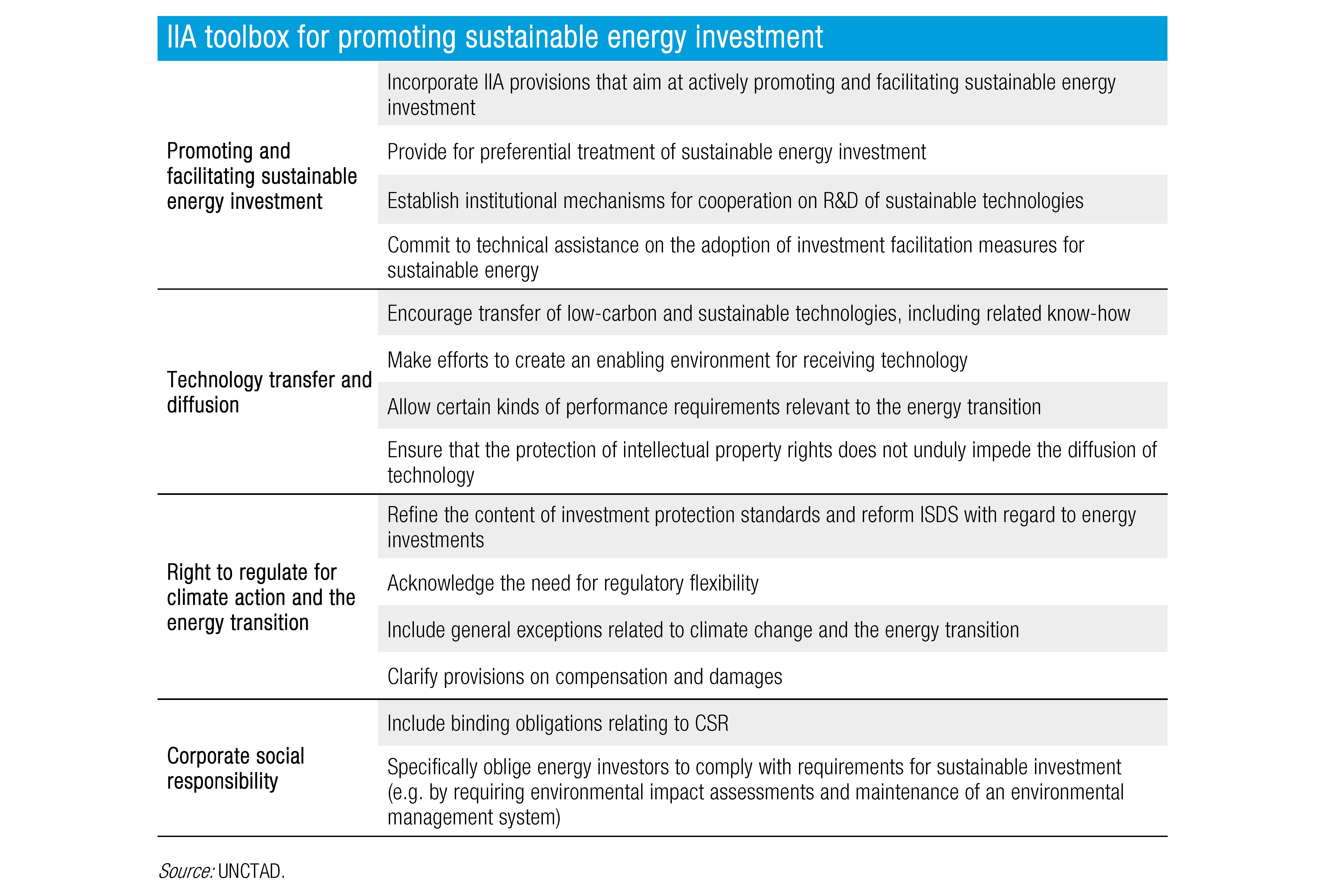 Major global trends in the investment treaty regime
Countries and regions continued their efforts to reform the IIA regime in 2022-2023. This includes new types of investment-related agreements with innovative provisions promoting sustainable investment, the termination of bilateral investment treaties (BITs) and ongoing multilateral discussions on reforming investor–State dispute settlement (ISDS) mechanisms.
Negotiations were concluded on several investment governance instruments that contain proactive investment facilitation features and pay greater attention to responsible investment and to the right of host States to regulate in the public interest. The adoption of the African Continental Free Trade Area (AfCFTA) Investment Protocol and the Angola–EU Sustainable Investment Facilitation Agreement are notable examples.
For the third consecutive year, treaty terminations exceeded new IIAs. In 2022, countries concluded at least 15 new IIAs and at least 58 IIAs were effectively terminated. Most terminations were by mutual consent and concerned bilateral investment treaties between EU member States (intra-EU BITs). Globally, a total of at least 569 IIAs have been effectively terminated over the years.
The landscape is still largely dominated by old-generation IIAs that are inconsistent with the global sustainability imperative and can hinder policy measures needed for the energy transition. Of the 2,584 treaties currently in force, over 2,300 were signed before 2012.
Such old-generation IIAs serve as the basis for almost all existing ISDS claims. As of 1 January 2023, the total number of publicly known ISDS claims had reached 1,257. To date, 132 countries and one economic grouping are known to have been respondents to one or more ISDS claims. The Energy Charter Treaty continued to be the most frequently invoked IIA.
Investment treaty reform events at the World Investment Forum 2023
Decision makers will be discussing pioneering and agenda-setting reforms for national and international investment policies at the UNCTAD World Investment Forum (WIF) in Abu Dhabi, 16-20 October 2023. Join your peers and register today: https://worldinvestmentforum.unctad.org/
The WIF will feature International Investment Agreements and Investment Facilitation events involving key stakeholders throughout the week:

Photo credit: © Shutterstock/M2020