Second Ambassadors' Round Table on investing in the SDGs on 11 November 2019 in Geneva
Investment is a key driver for sustainable development: attaining the SDGs will not be possible without investment. At the same time, investment is a matter that cuts across various issues, including those that are being dealt with by the various international organizations headquartered in Geneva (such as trade, labor, intellectual property, human rights, health, climate, migration, etc.). The Permanent Representatives (PRs) attend to these various issues in their day-to-day responsibilities and are aptly situated to see and operationalize these crosscutting elements from a global perspective.
The Geneva Ambassadors' Roundtable on Investing in the SDGs provides the platform to discuss key and emerging issues in the area of investing in the SDGs, allowing Geneva-based Permanent Representatives to take full advantage of their strategic positioning to effectively promote private sector contributions to the SDGs and spearhead the role of Geneva as a global SDG implementation hub. The First Ambassadors' Roundtable was held on the occasion of the World Investment Forum 2018 in Geneva.
The event will bring together ambassadors and leading private sector executives in an interactive discussion to take stock of current Sustainable Development Goals investment trends, progress made and solutions towards the implementation of the Agenda 2030. The discussion will be informed by the new SDG Investment Trends Monitor, launched at the occasion of the 74th United Nations General Assembly, and the Guidance on Core Indicators for Entity Reporting on Contribution towards the SDGs. It will also be the opportunity to discuss a new UNCTAD initiative, Investing in the Sustainable Development Goals: The Role of Diplomats. The session will close with the presentation of UNCTAD Investment Promotion Awards to the best-performing agencies in promoting sustainable investment in special economic zones.

Overview
Event: Ambassadorial Round Table
Date: Monday, 11 November 2019
Time: 15:00 - 18:00
Location: Palais des Nations, Geneva, Room XVIII

Logistics, documents and resources

Event pictures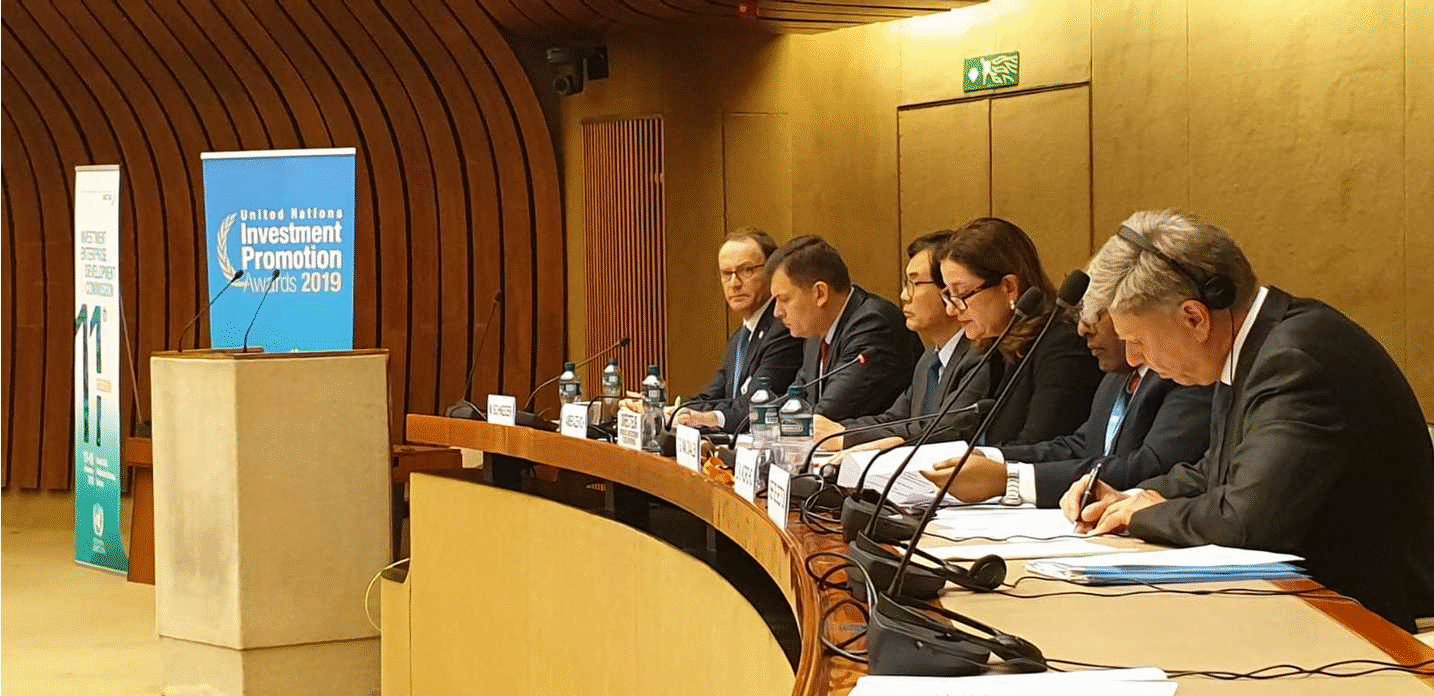 Statements > click on the country to see the statement


UNCTAD, Mr. James Zhan, Director, Division on Investment and Enterprise
AMBASSADORS
Afghanistan, H.E. Mr. Nasir Ahmad ANDISHA, Ambassador and Permanent Representative of the Islamic Republic of Afghanistan to the UN and other international organizations in Geneva
Austria, H.E. Mrs. Elisabeth TICHY-FISSLBERGER, Ambassador and Permanent Representative of Austria to the UN and other international organizations in Geneva
Azerbaijan, H.E. Mr. Vaqif SADIQOV, Ambassador and Permanent Representative of Azerbaijan to the UN and other international organizations in Geneva
Bangladesh, H.E. Mr. M. Shameem AHSAN, Ambassador and Permanent Representative of Bangladesh to the UN and other international organizations in Geneva
Belarus, H.E. Mr. Yury AMBRAZEVICH, Ambassador and Permanent Representative of Belarus to the UN and other international organizations in Geneva
Czech Republic, H.E. Mr. Petr GAJDUSEK, Ambassador and Permanent Represenative of the Czech Republic to the UN and other international organizations in Geneva
Egypt, H.E. Mr. Alaa YOUSSEF, Ambassador and Permanent Representative of Egypt to the UN and other International Organizations in Geneva
Ethiopia, H.E. Mr. Zeneke Kebede KORCHO, Ambassador and Permanent Representative of Ethiopia to the UN and other international organizations in Geneva
European Union, H.E. Mr. Walter STEVENS, Ambassador and Permanent Representative of the European Union to the UN and other international organizations in Geneva
Germany, H.E. Mr. Hans-Peter JUGEL, Ambassador and Deputy Permanent Representative of Germany to the UN and other international organizations in Geneva
Guatemala, H.E. Mr. Eduardo SPERISEN, Ambassador and Permanent Representative of Guatemala to the WTO, UNCTAD, WIPO, and ITC
Guyana, H.E. Mr. John R Deep FORD, Ambassador and Permanent Representative of the Cooperative Republic of Guyana to the UN and other international organizations in Geneva
Lebanon, H.E. Mr. Salim BADDOURA, Ambassador and Permanent Representative of Lebanon to the UN and other international organizations in Geneva organizations in Geneva
Lesotho, H.E. Mr. Refiloe LITJOBO, Ambassador and Permanent Representative of the Kingdom of Lesotho to the Swiss Confederation, the UN and other international organizations in Geneva
Montenegro, H.E. Mr. Milorad ŠCEPANOVIC, Ambassador and Permanent Representative of Montenegro to the UN and other international organizations in Geneva
Morocco, H.E. Mr. Omar ZNIBER, Ambassador and Permanent Representative of the Kingdom of Morocco to the UN and other international organizations in Geneva
Netherlands, H.E. Mrs. Monique T. G. VAN DAALEN, Ambassador and Permanent Representative of the Kingdom of the Netherlands to the UN and other international organizations in Geneva
New Zealand, H.E. Mr. David WALKER, Ambassador and Permanent Representative of New Zealand to the UN and other international organizations in Geneva
North Macedonia, Mrs. Natasha HRONESKA, Chargée d'affaires, Permanent Mission of the Republic of North Macedonia to the UN and other international organizations in Geneva
Pakistan, H.E. Mr. Khalil HASHMI, Ambassador and Permanent Representative of Pakistan to the UN and other international organizations in Geneva
Palestine, H.E. Mr. Ibrahim KHRAISHI, Ambassador and Permanent Observer of the State of Palestine to the UN and other international organizations in Geneva
Panama, H.E. Mr. Alfredo SUESCUM, Ambassador and Permanent Representative of the Republic of Panama to the WTO and other international organizations in Geneva related to trade
Peru, H.E. Mrs. Silvia Elena ALFARO ESPINOSA, Ambassador and Permanent Representative of Peru to the UN and other international organizations in Geneva
South Africa, H.E. Mrs. Xolelwa MLUMBI-PETER, Ambassador and Permanent Representative of South Africa to the WTO
Thailand, H.E. Mr. Sek WANNAMETHEE, Ambassador and Permanent Representative of the Kingdom of Thailand to the UN and other international organizations in Geneva
Togo, H.E. Mr. Yackoley Kokou JOHNSON, Ambassador and Permanent Representative of Togo to the UN and other international organizations in Geneva
Trinidad and Tobago, H.E. Mrs. Makeda ANTOINE-CAMBRIDGE, Ambassador and Permanent Representative for the Republic of Trinidad and Tobago to the UN and other international organizations in Geneva
Zambia, Mrs. Margret Mary Lungu KAEMBA, Chargée d'affaires, Permanent Representative of Zambia to the UN and other international organizations in Geneva
PRIVATE SECTOR
Nestlé, Mr. Mark SCHNEIDER, Chief Executive Officer
International Chamber of Commerce, H.E. Mr. Crispin CONROY, Ambassador, Permanent Delegation of the International Chamber of Commerce to the UN and other international organizations
* The statements are available in the language in which they were received