11-15 November: selected events during Commission session
08 Nov 2019
On 11-15 November 2019, UNCTAD's Investment, Enterprise and Development Commission (click here) will hold its eleventh session at the Palais des Nations, Geneva. Member States and investment and development stakeholders will discuss key and emerging issues in the area of investment and enterprise and their implications for sustainable development, as well as policy solutions.

Selected events during the Commission week


MONDAY, 11 November
TUESDAY, 12 November
WEDNESDAY, 13 November

FULL PROGRAMME (click here to download)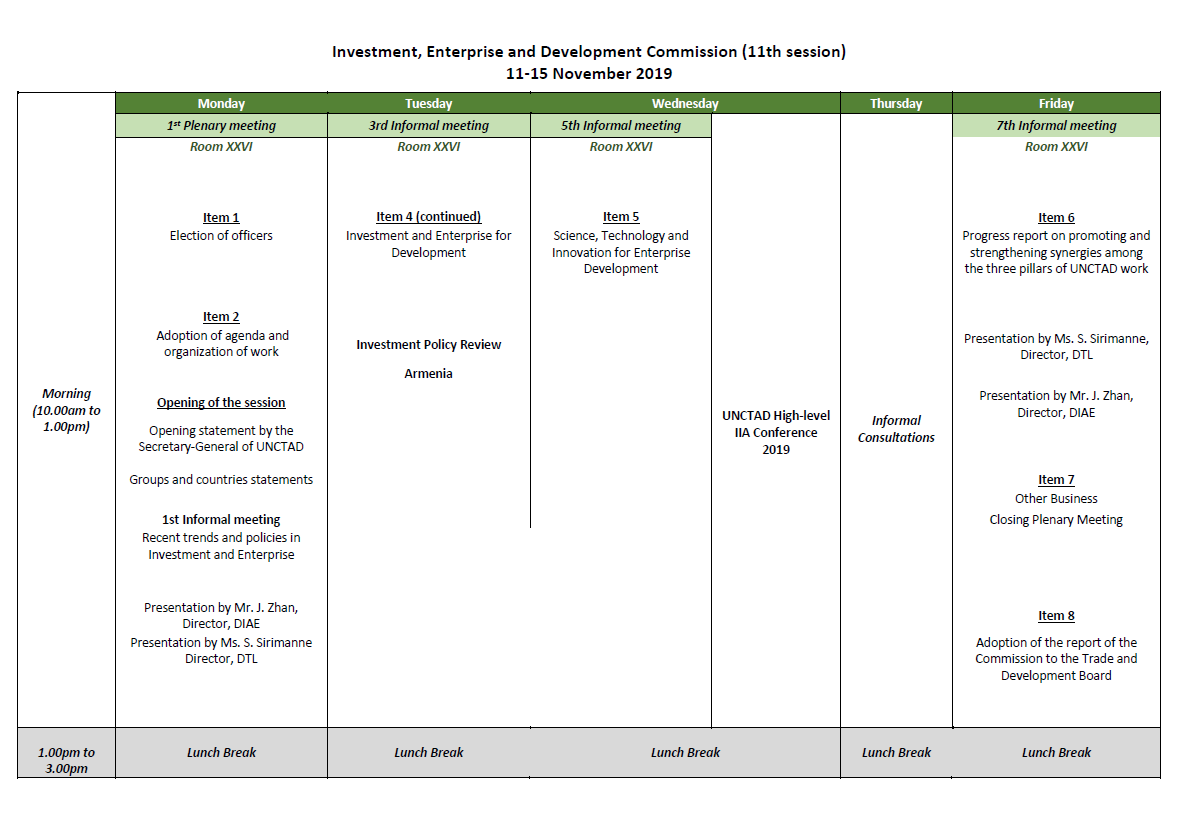 On the first day of the Commission, the UNCTAD secretariat will convene a Geneva ambassadors round table for investing in the Sustainable Development Goals, which will take stock of the various initiatives carried out by the platform since the 2018 World Investment Forum. The Commission will then discuss how national and international investment policies can be oriented with a view to creating the conditions for economic growth and prosperity.

On the side lines of the Commission session on Monday, the UNCTAD Investment Promotion Awards will be given to the best-performing agencies in promoting sustainable investment in special economic zones.

During the second day of the Commission, policymakers, investment promotion agencies and private sector representatives will be given an opportunity to exchange concrete experiences and views , devoted to the presentation, at the ministerial level, of investment policy reviews.

On the third day, the Commission will review the progress made towards the reform of the international investment regime and the way forward. The High-level IIA Conference 2019 will first be held in parallel to the Commission session and then join the Commission's plenary from 16:30 to 18:00.