High-level IIA Conference 2019 - Information on the programme

Programme > (click to see full agenda as of 14.11.2019)

08:30 Pre-event activities -> click to see the agenda
UNCTAD – SIEL "Award for Research on Investment and Development" Announcement
Book launch "The Right of States to Regulate in International Investment Law"
Book launch "The Research Handbook on Foreign Direct Investment"
10:00 Opening plenary: Taking stock of SD-oriented IIA reform (with a focus on phase 2 reform actions)
11:30 Break-out sessions: Multilateral processes related to investment policymaking and their contribution to Phases 1 and 2 of SD-oriented IIA reform
Preserving the right to regulate, while providing protection
Reforming investment dispute settlement
Promoting and facilitating investment
Ensuring responsible investment
Advance video statements
13:00 – 15:00 Lunch and side event -> click to see the agenda
Project launch "APEC Handbook on Obligations in International Investment Treaties"
15:00 Break-out sessions: Regional processes related to investment policymaking and their contribution to Phases 1 and 2 of SD-oriented IIA reform
Developing countries: Africa
Developing countries: Asia
Developed countries
Economies in transition
16:30 - 18:00 Closing plenary

Lead topic for discussion
Forward-looking IIA reform is well under way. All treaties concluded in 2018 contain several reforms that are in line with the UNCTAD reform package for the international investment regime (2018) or the UNCTAD Investment Policy Framework for Sustainable Development. UNCTAD policy tools have also spurred initial action to modernize old-generation treaties. Countries are increasingly interpreting, amending, replacing or terminating outdated treaties.
Given that, to date, such reform actions have addressed a relatively small number of IIAs, there is broad scope and urgency to pursue them further. Currently, the stock of old-generation treaties is 10 times greater than the number of modern, reform-oriented treaties and the majority of known investor–State dispute settlement cases have to date been based on old-generation treaties.
The 13 November High-level IIA Conference will bring together representatives of States, intergovernmental organizations and other stakeholders to take stock of IIA reform progress and lessons learned with a particular focus on phase 2 of the reform (modernizing old-generation treaties).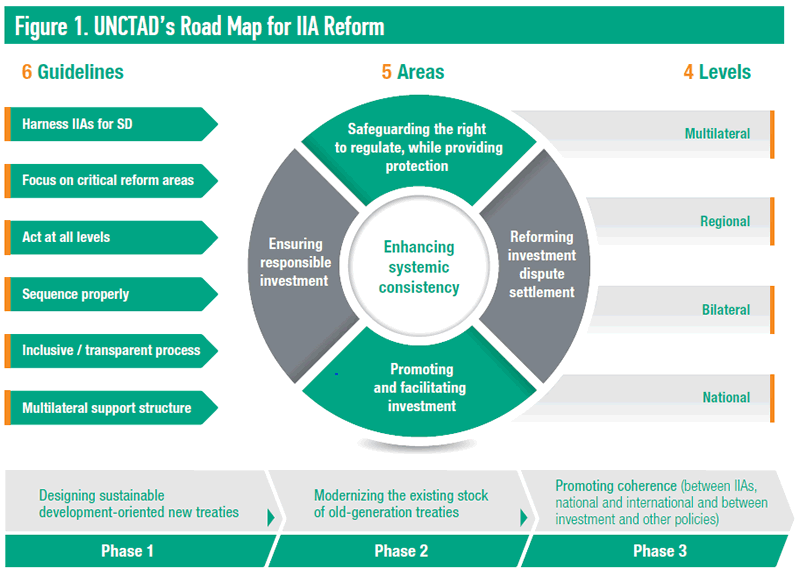 Source: UNCTAD's Reform Package for the International Investment Regime (2018 edition).